There is a lot of construction happening around Lamar! We encourage those who are eligible to take advantage of the AISD buses. Carpooling, "walking buses", and alternate routes are also highly encouraged.
Parents
When picking up or dropping off your student, please park in the direction of traffic. Do not park in the opposite direction. 
The north parking lot at White Horse trail is for staff ONLY. Do not park in this lot.
Buses
Eligible bus riders should have received route information last week from AISD transportation. Check out Bus Finder to see if you are eligible for a bus and route information. Don't forget to download the Where's The Bus app for personalized route information and live updates on the bus location.
Driving to Lamar
The safest way to drop students off is going northbound on Wynona so that students do not have to cross the street. To reduce interaction between cars, pedestrian and bus traffic, we kindly ask that parents do not drop off in the parking lots or the bus lane along Burnet Rd.
To reduce the traffic around the construction on Burnet Rd, at the recommendation of the team mentioned above, we suggest parents utilize Shoal Creek to approach Lamar from the west.
When approaching Lamar from the east, we encourage parents to drive past Burnet Rd. and turn right on Wynona from 2222 (Allandale Rd). Another option to drop students off on the east side of Burnet Rd. along Laird. Students would then walk to the cross walk at Romeria to cross Burnet Rd. where there is a crossing guard. The area businesses kindly ask that you do not use their parking lots as a drop off spot.
No matter which route you drive to Lamar, please use extreme caution as there are many students who walk, ride their bikes, and skateboard to school.
(Included is a low-fi map for your reference. Looks like it's time for me to audit a Graphic Arts class.)
Walking to Lamar
Many students walk to Lamar and are encouraged to walk in groups when possible. Students should only cross streets at crosswalks and use caution when doing so. There is an crossing guard at Romeria and Burnet Rd. We do our best to staff crossing guards at crosswalks on Wynona but with staffing shortages, this is becoming increasingly difficult. (See information about becoming a crossing guard below near the end of The Bark.)
The crosswalk at Burnet and 2222 (Allandale/Koenig) is closed in places. If this intersection is the safest option, pedestrians should respect the closure information. We are encourage students to walk along the east side of Burnet (Thom's Market side) and cross at Romeria with the crossing guard.
Biking to Lamar
Bike racks are located in the front of the school along Wynona Ave. Students should follow the rules of the road and walk their bikes across busy intersections. Be sure to wear your helmet and lock your bike!
Suggested Driving Routes to Lamar
Crosswalks (red-discouraged/closed, orange - use caution, green - crossing guard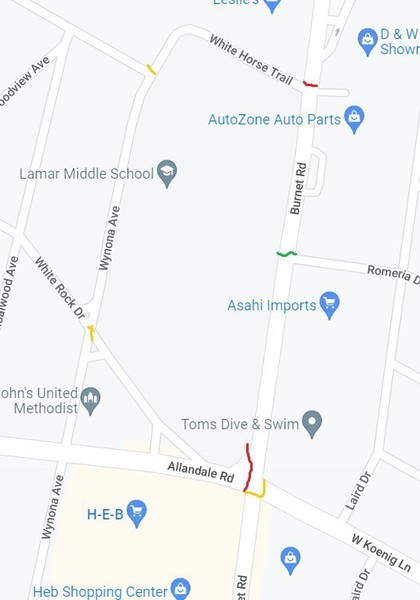 Arrival to Campus
7:55 am - Doors open
7:55 - 8:15 Students proceed to their morning location as follows:
6th Grade - Cafeteria
7th Grade - Small Gym
8th Grade - Large Gym
All are welcome to eat breakfast in the cafeteria.
8:15 - Students are released from AM locations. On the first and second day of school students report to their Scottie Seminar class. Scottie Seminar is listed as ADV on the schedules. Lists will be posted throughout the main hallway with names and Scottie Seminar locations.
8:20 - School begins