Upcoming Dates
Sat, 9/24 - Austin ISD Job Fair @ Delco
Tues, 9/27 - Lamar Football v. O'Henry at House Park (1301 Shoal Creek Blvd.)
Weds, 9/28 - Art Booster Meeting
Thurs, 9/29 - Lamar Volleyball v. Small
Friday, 10/7 - Early Release @ 2:30 pm
Friday, 10/14 - No School - Staff Development
Mon, 10/17 - Lamar Fine Arts Academy/Magnet Program Common Application Opens
Text for The Bark
We are trying something new this week and texting The Bark as well. I'm hearing from families that sometimes the emails do not come through. Be sure to check out the instructions for updating preferences in the messenger system at the end of this newsletter.
Staffing Update
Today, we bid farewell to Coach Houston! He will be truly missed at Lamar and we wish him the best in his future endeavors.
We welcome Ms. Briana O'Guin (briana.burns@ausitnisd.org) as our new Fine Arts Coordinator! Be ready for The Bark to be even more informative as she steps in to assist with the newsletter and website.
Early Release on October 7th
Students will be released from school at 2:30 pm on Friday, October 7th. Please see the link for the adjusted bell schedule.
Scotties had a great week!
Ms. Acevedo's art classes made hand bound books made of cardboard in celebration of Hispanic Heritage Month. They learned about the origin and purpose of this technique.
The Lamar Scotties Band support the MAC Band at AISD's Jamboree.
Ms. Gillespie's classes made alfredo and marinara sauce from scratch for a yummy lunch. Some classes even had a bonus lab baking chocolate chip cookies. They invited me to be a taste tester and I can tell you, everyone got an A!
Device Policy Reminders
Personal electronic devices must be off and out of sight from 8:20 am to 3:50 pm.
Consequences for using a device during class will be as follows:
First offense: Device will be confiscated and brought to the front office. Students may retrieve at the end of the day from an administrator.

Second offense: Device will be confiscated and brought to the front office. A parent must retrieve the phone from an administrator.

Third offense: Students will be placed on a device contract.
Please note that consequences are per student. This means that if a student has their airpods taken up one day and then their phone another, a parent must retrieve the phone.
We thank you for your cooperation in helping our teachers and staff maintain the learning environment.
After School Clubs!
Ultimate Frisbee? Gardening? Science Club? Dungeons and Dragons? Possibly!
The PTA is supporting Lamar's efforts to expand our after school club opportunities. To REconnect as a community and create fun, joyful, and authentic experiences for both teachers and students.
Please complete this survey to help the planning process. Staff and students will complete their own survey.
Campus Security Reminders
As a reminder, all visitors to campus must sign in to the main office. Only individuals on the students' registration form will be allowed access to the child.
When arriving to Lamar to check in, visitors ring the button at the main entrance. We ask that you support us in allowing one person/group at a time and not to "piggy-back" off.
Thank you for helping us keep Lamar students and staff safe!
Office Hours
Office Hours with teachers are held Tuesdays through Fridays from 7:55 am to 8:15 am. Students may obtain a pass from either the front foyer or their morning location. Be sure to check with your teacher for specific days office hours are held.
Volunteers
Lamar has an amazing community supporting our teachers, staff, and students. Stay tuned for information on how to volunteer in the office, at lunch, or in other ways at Lamar.
If you are interested in volunteering, the first step is completing an application with Austin Partners in Education.
No Tardy Donut Party
Congratulations to Mr. Sosa's 8th period and Ms. Dietz's 6th period for winning our first round of No Tardy Donut Party! Each time all students are on time to a class, teachers enter their class into a raffle for a drawing for a donut party. Way to go!
Speaking of Tardies
Tardy sweeps are beginning soon! What's a tardy sweep? Admin selects a period on a given day where any student found in the hallway after the bell rings is brought to the cafeteria and assigned a lunch detention. Get to class on time and don't get caught in the sweep!
Gifted and Talented Nominations
The Gifted and Talented nomination window is now open. Parent nomination forms can be found here on the Gifted and Talented page. Nomination forms must be emailed to the GT Coordinator, ann.kestner@austinisd.org, by October 7th.
GT Referral and Screening Process
All campuses in Austin ISD offer Gifted and Talented screening in grades K-12 based on referrals received by the Campus GT Advocate.
Parents and caregivers can submit their child's name to the Campus GT Advocate to be considered for the Gifted and Talented program. The Campus GT Advocate can provide more details.
Referral Dates for SY2022-23:
September 19-October 7 for grades 3-12
FROM THE LIBRARY
DONUTS + DEBRIEF BOOK CLUB IS BACK!
What? We're reading Serafina and the Black Cloak by Robert Beatty. Students must finishing reading before Oct. 21. We'll eat donuts and talk about the story that morning. There is one copy in the library and one copy on Sora App. If those are checked out, students can borrow/find/buy a copy to get it read. I always try to pick popular enough titles that someone on a neighborhood social media site might have a copy lying around.
When? Friday, Oct. 21 at 7:30 am
Where? Students come to the front door. Mrs. Bowman will let your student in.
How? Your student MUST sign up on the Lamar Library Blend page to attend. Click the yellow Donuts + Debrief button. Does it say it's no longer accepting responses? We're full!
Didn't make it in? Want to join but don't like this particular book? Don't worry! A new book and new signup will be announced October 21 after the first meeting. Email any further questions to tara.bowman@austinisd.org
Announcements from Teachers
From Lamar Courtesy Fund
Lamar community, want to help our teachers and staff in an easy, fuss-free way? Please donate to our Courtesy Fund!
You'll be helping sponsor birthday cakes 🍰, flowers for important life events 🌷, and even a meal or two🍴.
As little as $5 goes a long way. Donate now at:
https://austinisd.schoolcashonline.com/Fee/Details/26329/63/False/True
VOLUNTEERS NEEDED FOR TUESDAY AND WEDNESDAY MORNING!
Come spend an hour at Lamar helping us sort our students' yearbook photos by advisory teacher! It's not glamorous, but it'll help speed up the process of getting the right photos to the right kids.
What do you need to do? Check and see if you're registered with Austin Partners in Education (APIE). If not, do that ASAP so you're legit: https://austinpartners.formtitan.com/volunteerportal#/
Then stop by the office when the first bell rings (8:15-8:20) on Tues 9/27 or Wed 9/28 and sign in. You'll come to the library and we'll show you what's what.
Questions? Email tara.bowman@austinisd.org. And don't forget to register with APIE! (Note: You do NOT have to pay a fee for the APIE background check - that is entirely optional!)
Yearbooks-Past and Present
Yearbooks are ready to be purchased for the 2022-2023 school year!
Fall is the best & cheapest time to buy, Prices go up after winter break.
Here is the direct link for easy online purchasing: https://www.balfour.com/texas/austin/lamar-middle-school/yearbook-packages
Update: Yearbooks previously purchased for the 2021-2022(LAST YEAR) school year have MOSTLY been distributed the last few weeks. There are some students who have not been on campus or we have not located their Scottie Seminar classroom. If you think you purchased one & your student did not receive it, please email our Advisor Alissa Godina at alissa.godina@austinisd.org
"LIKE" OUR CLASSICAL GUITAR SUBMISSION FOR HISPANIC HERITAGE MONTH!
Lamar Guitar has submitted the following entry for the AISD Hispanic Heritage Month video contest. Can you help us win?? Please click on the video and "like" the original video on YouTube from AISD - Educa Austin. 🙏 Thank you! I hope you enjoy the video.
Digital Arts & Media Majors
Wednesday, Sept 28, 2022
7:55 a.m. - 8:15 a.m., room 206
We will discuss contests and grade expecattions.
Dance Department Donors Choose
Help me give my students Fluid Capezio tap shoes in shoe sizes 6-9. My students are a creative group of young artists. They work hard to further their dance training and are dedicated to the dance program. As our program grows in numbers, so does our students' need for resources.
You can also join Lamar's Dance Guild to support the dance department at
BEGINNING DANCE STUDENTS ATTEND "SWING OUT"
Lamar's Beginning Dance students attended the dance department's first field trip since February 2019. We had a wonderful time at the "Sw!ng Out," performance at the UT Bass Concert Hall last Friday, 9/16. The Dance Department will be taking the Intermediate Dance students to Ballet Austin in November.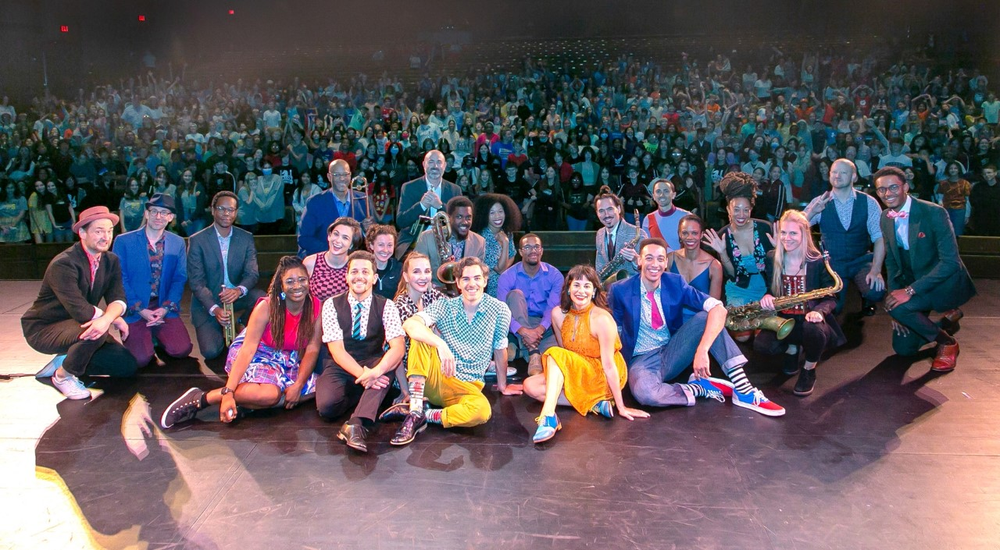 Orchestra Booster Meeting - FOLO
The first Friends of Lamar Orchestra (FOLO) meeting is Oct 2 at 4pm at Austin Beerworks for anyone with a child enrolled in an orchestra class at Lamar.
6th Grade Science Club
Meets every Thursday 4-5pm starting on October 6th
Science Club is hosed by Bianca Blaney in Room 211
Help spread THE bark
The Bark is now distributed through AISD's School Messenger. Be sure your settings allow for campus messages. You can check your settings under "My Messages" in the Parent Portal.
Click here for a step by step tutorial.
Secret Pals
Please help us support our Lamar Staff and sign up to be a Secret Pal!
Join us for at Hat Creek Burger Company to support the Lamar Middle School Band
5400 Burnet Rd., Austin TX 78756
Monday, Oct. 17, 5-8pm
Place your receipts in the bucket at the register or the drive-thru and 10% of the sales will go to the band booster. Tell your Friends and neighbors! Thanks for supporting the LMS Band students!