Upcoming Dates
Sun, 10/2 - National Custodian Day
10/3-10/7 - Spirit Week! More info below!
Mon, 10/3 - Lamar Football v. Kealing (6p @ House Park)
Tues, 10/4 - Theater Booster Meeting (6p)
Weds, 10/5 - Dance Guild Meeting (6:30p via Zoom)
Friday, 10/7 - Early Release @ 2:30 pm
Friday, 10/7 - Gifted and Talented Parent Nominations Close
Friday, 10/14 - No School - Staff Development
Mon, 10/17 - Lamar Fine Arts Academy/Magnet Program Common Application Opens
Get The Bark via Text!
We are trying something new this week and texting The Bark as well. I'm hearing from families that sometimes the emails do not come through. Be sure to check out the instructions for updating preferences in the messenger system at the end of this newsletter.
NATIONAL CUSTODIAN'S DAY
National Custodian Day: Oct. 2
In preparation for National Custodian's Day, our students made cards expressing gratitude for our campus custodians (see a couple below)!
Our custodians:
Mr. Carlin
Ms. Soto
Ms. Orellana
Ms. Carbajal
Early Release on October 7th
Students will be released from school at 2:30 pm on Friday, October 7th. Please see the link for the adjusted bell schedule.
Homecoming 2022
This week we bring back the tradition of Homecoming! Each day of the week, students and staff are encouraged to dress up in the themes. Homecoming games are Monday for football and Thursday for Volleyball. During the Homecoming football game, the cheer leaders and band will participate in the activities at the stadium too. The week wraps up with a Homecoming dance on Friday evening, sponsored by Lamar Athletics and Cheer.
We typically are asked what students should wear to dances. Lamar celebrates our uniqueness so come as you wish! (As long as your outfits meets dress code.)
To ensure the fun and safety of all involved, here are few reminders about athletic events:
Students must be accompanied by a parent when attending athletic events.
-ans should demonstrate positive sportsmanship by cheering loud for their team, and not against the other team. Comments towards referees and other competition staff are not permitted.
Expectations for the dance are as follows:
All school rules remain in place during dances.
Students must have demonstrated positive behavior during the week to attend. Those who have received a lunch detention, In School Suspension, and/or Home School Suspension during the week of Homecoming will not be allowed to attend. Refunds will not be issued.
Small or clear bags will be allowed. All other bags must remain at home.
Friday, October 7th is an early release day. Students must leave campus after school and before the dance.
Students must be picked up within 10 minutes after the end of their dance time. Failure to do so may prevent students from attending future extracurricular events.
A special shout out to the teachers who have worked hard to plan Homecoming Week! We are looking forward to the fun and community that such celebrations bring to Lamar!
1st Nine Weeks Grading Period
It's hard to believe that the first grading period is almost over! Friday, October 7th is the last day to turn in any late assignments still being accepted by teachers. This allows teachers enough time to provide feedback and update grades.
School Photo Information
Students received their proofs during Scottie Seminar this week. Orders can be placed by visiting mylifetouch.com with Picture Day ID: EVTM7S84G.
Food Delivery Reminders
We are unable to accept food deliveries from services such as UberEats and DoorDash. Lamar is not responsible for costs incurred for deliveries that have been turned away.
Food is available for purchase in the cafeteria. Set up your account today at SchoolCafe.com.
Device Policy Reminders
Personal electronic devices must be off and out of sight from 8:20 am to 3:50 pm.
Consequences for using a device during class will be as follows:
First offense: Device will be confiscated and brought to the front office. Students may retrieve at the end of the day from an administrator.

Second offense: Device will be confiscated and brought to the front office. A parent must retrieve the phone from an administrator.

Third offense: Students will be placed on a device contract.
Please note that consequences are per student. This means that if a student has their airpods taken up one day and then their phone another, a parent must retrieve the phone.
We thank you for your cooperation in helping our teachers and staff maintain the learning environment.
Campus Security Reminders
As a reminder, all visitors to campus must sign in to the main office. Only individuals on the students' registration form will be allowed access to the child.
When arriving to Lamar to check in, visitors ring the button at the main entrance. We ask that you support us in allowing one person/group at a time and not to "piggy-back" off.
Thank you for helping us keep Lamar students and staff safe!
Office Hours
Office Hours with teachers are held Tuesdays through Fridays from 7:55 am to 8:15 am. Students may obtain a pass from either the front foyer or their morning location. Be sure to check with your teacher for specific days office hours are held.
Volunteers
Lamar has an amazing community supporting our teachers, staff, and students. Stay tuned for information on how to volunteer in the office, at lunch, or in other ways at Lamar.
If you are interested in volunteering, the first step is completing an application with Austin Partners in Education.
Tardy Sweeps Begin Soon!
Tardy sweeps are beginning soon! What's a tardy sweep? Admin selects a period on a given day where any student found in the hallway after the bell rings is brought to the cafeteria and assigned a lunch detention. Get to class on time and don't get caught in the sweep!
Gifted and Talented Nominations Close 10/7
Parent Nominations close on 10/7. Please use this link if you would still like to nominate your child and email the form to ann.kestner@austinisd.org.
Also, please note:
The G&T services provided by AISD middle schools consist of the many advanced and high school credit classes offered.

If your child was designated Gifted & Talented in an AISD elementary school, that designation follows to all schools in AISD.
Questions? Contact Lamar's GT Advocate, ann.kestner@austinisd.org.
FROM THE LIBRARY
DONUTS + DEBRIEF BOOK CLUB IS BACK!
What? We're reading Serafina and the Black Cloak by Robert Beatty. Students must finishing reading before Oct. 21. We'll eat donuts and talk about the story that morning. There is one copy in the library and one copy on Sora App. If those are checked out, students can borrow/find/buy a copy to get it read. I always try to pick popular enough titles that someone on a neighborhood social media site might have a copy lying around.
When? Friday, Oct. 21 at 7:30 am
Where? Students come to the front door. Mrs. Bowman will let your student in.
How? Your student MUST sign up on the Lamar Library Blend page to attend. Click the yellow Donuts + Debrief button. Does it say it's no longer accepting responses? We're full!
Didn't make it in? Want to join but don't like this particular book? Don't worry! A new book and new signup will be announced October 21 after the first meeting. Email any further questions to tara.bowman@austinisd.org
Announcements from Teachers
Homecoming Events and Activities At A Glance:
Homecoming Game: Monday October 3rd against Lively @ House Park. 7th grade starts at 6:00 and 8th grade starts at 7:30
Dress up days
Secret Scotties Card
Mini Pep Rally at lunches.
Homecoming Dance: Friday October 7 (more details below)
Homecoming Game:
The football game will take place at House Park Field on Monday October 3rd. The 7th grade game will start at 6:00 p.m. with 8th grade to follow at 7:30 p.m.. Come decked out in ALL of the Lamar gear you have to show your support!
Dress Up Day Themes:
Monday: Purple Out
Tuesday: Tropical Tuesday
Wednesday: Western Wednesday
Thursday: Throwback Thursday
Friday: Jorts and Jersey's (Jorts stands for jeans or jean shorts)
Secret Scottie Cards:
The Secret Scottie Cards will be hidden around the school each day. Students will look for the cards during passing periods and if they find it they will win a small prize.
If students are not behaving in a manner they should or are leaving/late to class because of the Secret Scottie Cards they are immediately disqualified. If this becomes an issue, we will discontinue this activity.
There will be one card per grade level and it will be labeled.
Mini Pep Rallies:
During each lunch on Monday, October 3rd a small group of the cheerleaders will perform and dance and cheer and students will be reminded about homecoming week activities.
Homecoming Dance:
We will be holding a homecoming dance on Friday, October 7th. 6th grade will attend from 5:00-6:30 pm. 7th/8th grade will attend from 7:00-8:30 pm.
Tickets will be sold during lunch for $10. Their ticket purchase will get them into the dance, 2 slices of pizza, a drink and games. Scholarships will be provided if needed, tell students to come talk to Coach Ballee, Coach Perez, or Coach Trainer.
We still need more chaperones so if you would like to chaperone please sign-up using this link. You can sign up for both time slots or just one. If you can't donate your time, you can also donate snack/drinks to be sold at the dance as well.
GIRLS BASKETBALL TRYOUTS
To all 7th and 8th grade girls interested in participating in basketball:
Our first practice will be held on Monday, October 17 from 3:50 - 6:00 in the gym. You will need a completed physical form on file, all online paperwork completed in RankOneSport, t-shirt, shorts, and athletic shoes. We hope to see you on Monday, October 17.
-Coach Potter
Lamar Courtesy Fund
HELP INCREASE TEACHER HAPPINESS
Donate to our staff courtesy fund! With this fund, we
aim for a couple of breakfasts on teacher workdays
purchase a cake each month to celebrate birthdays
set up a lunch before Thanksgiving Break
hold some kind of event before Winter Break
buy flowers for teachers leaving our school at the end of the year
and more!
We need your help. Donate any amount, no matter how small, and our hearts will swell with gratitude! Completely unrelated: It should be acknowledged that finding spaces for staff parties in December is akin to getting your printer to air print (harder than it ought to be!).
Spirit Night
Please mark your calendars to stop by P. Terry's (5900 N. Lamar near Koenig) on Tuesday, 10/4 to support the Lamar Orchestra. You can Dine-In or Drive-Thru from 5 pm to close, and they will donate 10% of all sales to Lamar Orchestra!
WE HAVE A NEW VISUAL ARTS MASCOT!
Congratulations art students! The 2022-23 Visual Art mascot has been chosen. It was a fierce competition with dozens of fabulous students created llamas to pick from.
Our Visual Art Llama for this year is Joey the Shady Llama by Eva B.
Llama merchandise will be available for purchase in the next few months. All proceeds go back to the Visual Arts Department.
Our Runner Ups that will be made into stickers for the sticker machine at the front of Lamar are (in gallery order): Riana F., Lily W., Astrid H., Ava S., and Parker G.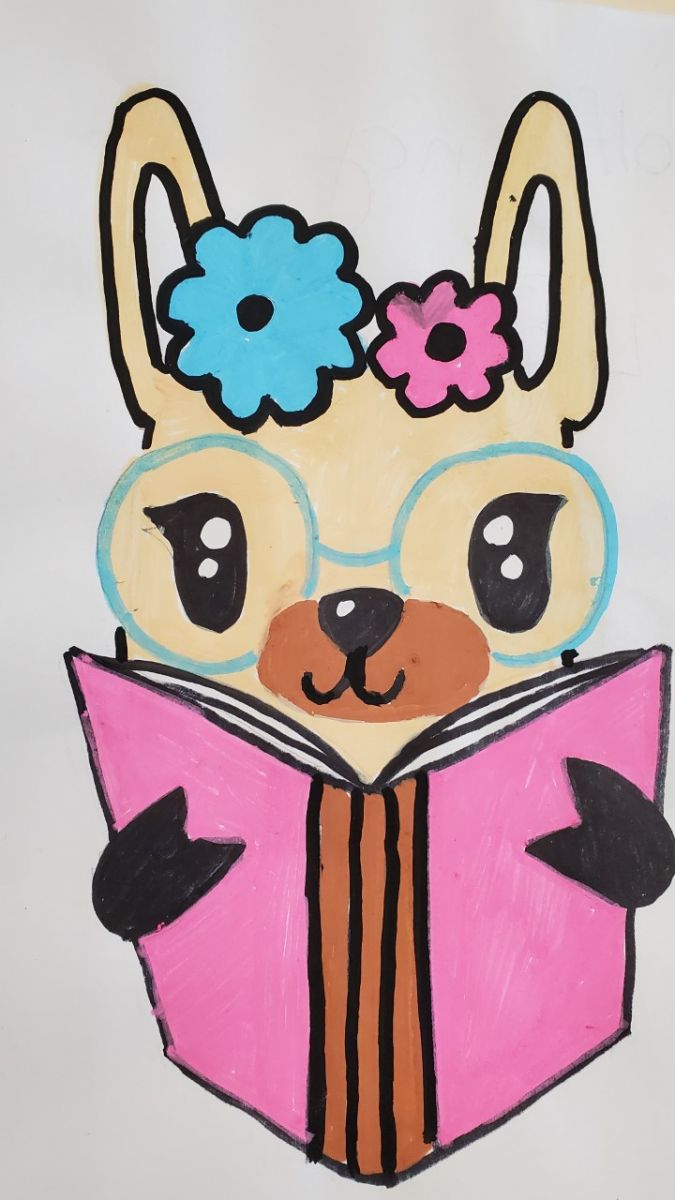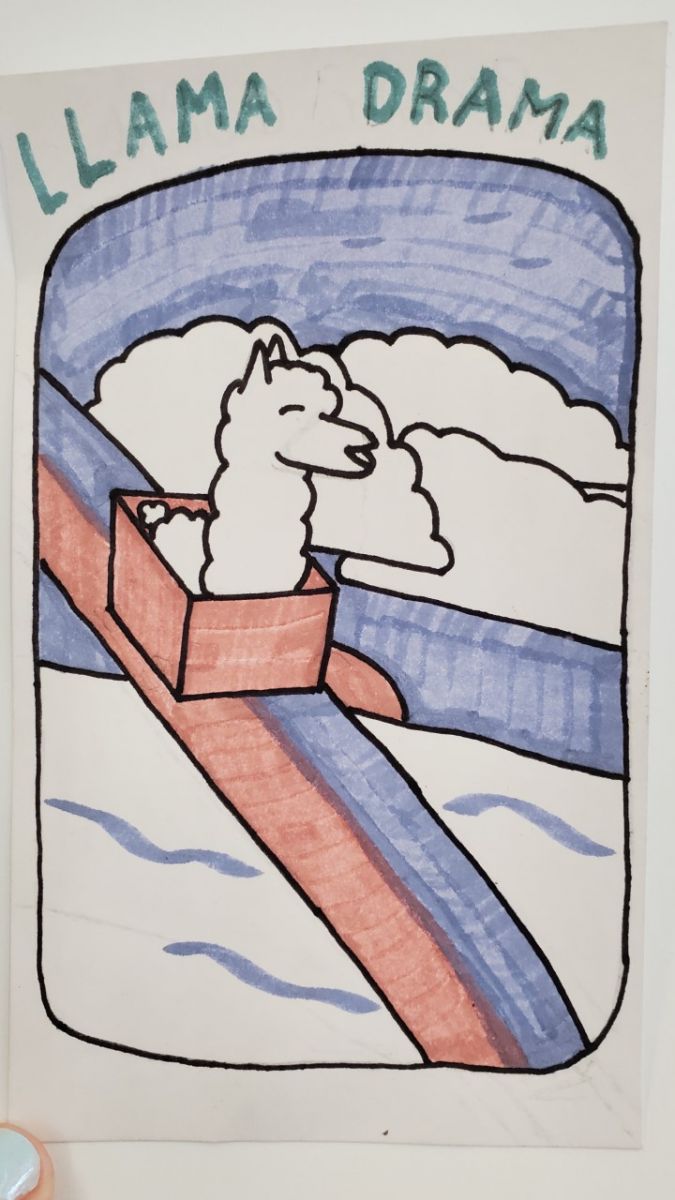 INTERMEDIATE ART'S 'TATTOO HANDS'
Ms. Thomas's intermediate art classes completed their Tattoo Hands project. During this project, students learned about Wassily Kandinsky and his use of abstract shape as well as the history of tattoo. Students learned about Geometric Vs. Organic shape and reviewed Warm Vs. Cool Colors. Their task was to create designs to fill the space of hands using the information they gathered.
Students were required to have one hand with all geometric shapes and one hand with all organic shapes. The artists picked which hand would look best in cool colors and which hand would benefit from warm colors.
Some of these wonderful works are on display in the cases at the front of Lamar.
Featured collaborative projects created by Jennie T and Claire S, Nola L and Genevieve C. Featured independent projects created by Posy R. and Parker G.
Yearbooks-Past and Present
Yearbooks are ready to be purchased for the 2022-2023 school year!
Fall is the best & cheapest time to buy, Prices go up after winter break.
Here is the direct link for easy online purchasing: https://www.balfour.com/texas/austin/lamar-middle-school/yearbook-packages
Update: Yearbooks previously purchased for the 2021-2022(LAST YEAR) school year have MOSTLY been distributed the last few weeks. There are some students who have not been on campus or we have not located their Scottie Seminar classroom. If you think you purchased one & your student did not receive it, please email our Advisor Alissa Godina at alissa.godina@austinisd.org
"LIKE" OUR CLASSICAL GUITAR SUBMISSION FOR HISPANIC HERITAGE MONTH!
Lamar Guitar has submitted the following entry for the AISD Hispanic Heritage Month video contest. Can you help us win?? Please click on the video and "like" the original video on YouTube from AISD - Educa Austin. 🙏 Thank you! I hope you enjoy the video.
Department Donors Choose
Help me give my students Fluid Capezio tap shoes in shoe sizes 6-9. My students are a creative group of young artists. They work hard to further their dance training and are dedicated to the dance program. As our program grows in numbers, so does our students' need for resources.
You can also join Lamar's Dance Guild to support the dance department at
6th Grade Science Club
Meets every Thursday 4-5pm starting on October 6th
Science Club is hosed by Bianca Blaney in Room 211
Help spread THE bark
The Bark is now distributed through AISD's School Messenger. Be sure your settings allow for campus messages. You can check your settings under "My Messages" in the Parent Portal.
Click here for a step by step tutorial.
Secret Pals
Please help us support our Lamar Staff and sign up to be a Secret Pal!
Join us for at Hat Creek Burger Company to support the Lamar Middle School Band
5400 Burnet Rd., Austin TX 78756
Monday, Oct. 17, 5-8pm
Place your receipts in the bucket at the register or the drive-thru and 10% of the sales will go to the band booster. Tell your Friends and neighbors! Thanks for supporting the LMS Band students!